HOW TO USE OUR
BIGSTAMPING PRINT KITS
Congratulations! You're about to discover the new way
to personalize stamping
Open the package and be surprised!
Spread a small amount of ink on the acetate paper!
*REPEAT THIS STEP EVERY 2 OR 3 OR 4 IMPRESSIONS, IT DEPENDS!
Spread the ink to create an even layer that adheres to the roller
*REPEAT THIS STEP WITH EVERY PRINT.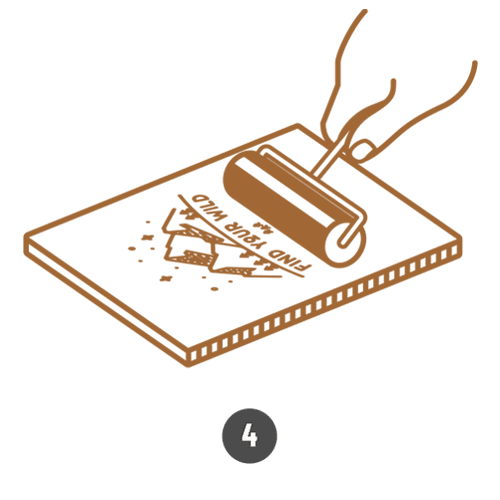 Transfer the ink to the stamp with the roller.
Stamp! seal our box, garment, bag, etc..
Go crazy with the result!
*CLEAN THE PRINT KIT WITH THE HELP OF A BRUSH OR A WATER-SOAKED CLOTH AFTER USE
We recommend vector files: AI, CDR, ID, FH and PDF
But we also accept images: TIF, JPG, PSD and PNG
We always check the result before making the seal.
TIPS FOR USING BIG STAMPING KITS
Create a work environment where you are comfortable and have everything at hand. Remember, always test on a disposable support with similar characteristics to the one we are going to print. This will help you to practice the pressure you must apply and the amount of ink needed by the roller included in our printing kits.
It is a very comfortable and agile printing. The quality of the paper/cardboard is the key to a good result. We recommend drying between 30 minutes and 24 hours, depending on how porous and absorbent the material is.
The feel of the seal with the wood is very good, especially if it has no treatment.
If it had varnish we could sand it down gently, seal it, and then re-coat it with varnish to protect it. In untreated woods, a drying time of between 30 minutes and 24 hours is recommended, depending on how porous and absorbent the material is.
For wall applications, it is recommended that the support be smooth and matt.
If the seal is large, it is important to try to exert pressure evenly over the entire seal.
The recommended drying time is 48 hours.
It is essential to avoid folds before printing, which is why we offer our T-shirt tensioner. It is recommended that a new drop of paint is poured onto the acetate for each print. Press and hold down for 3 to 4 seconds, then gently lift the seal. We recommend using Speedball ink, with a drying time of 48 hours, and not washing until 7 days have passed.
Washing tips: Wash at a low temperature and do not tumble dry.
The best way to extend the life of our BigStamping printing kits is to store them in a place that does not suffer sudden changes in temperature and protect them from light, to avoid deterioration of the seal material.
It is not recommended that the seal be placed under the tap to clean it using a wet brush.
NOTE : On very dark fabrics, to ensure optimum printing results, use our white / white or turquoise ink. These are the most covering inks. If you have any doubts, please contact us.